Waterproofing and Mold Removal on Utopia Parkway in Jamaica Estates, Queens, NY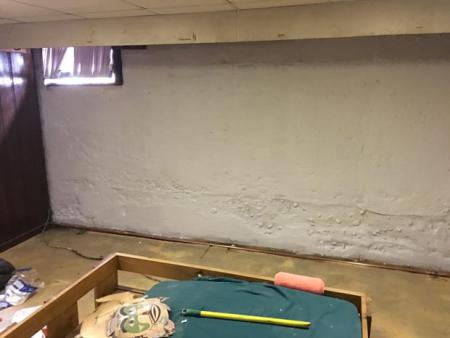 The basement of our temporarily unoccupied, built-in-1935 home, had begun to harbor mold on knotty pine wall paneling, due to poor waterproofing, and a crumbling foundation. We needed one side of the wall fully waterproofed (including exterior work on the house), and to have the knotty pine paneling on that side of the basement wall replaced.
Project Gallery
Client Review
I had previously been stood up for an appointment with another contractor, but working with Gotham Builders was much more organized and professional from the initial phone conversation with the lady at the office (sorry for not having her name handy!). Jay the lead contractor was an extremely good communicator, and showed a lot of flexibility in dealing with the particular situation of my family. I trusted in Jay's word from the get go due to his overt professionalism. He was able to properly assess the situation from day one, and start work very soon afterwards. Having demolished the moldy wall, we found that a few electrical lines and bits of plumbing in the basement were rusty and needed replacement. We were informed of this, gave approval, and this too was quickly remedied. In total the job consisted of Basement Waterproofing, Interior Demolition, Reframing, New Electrical, New Plumbing, Insulation, Interior Sheet Rock and New Windows, and th e project was completed over the course of a long weekend, and
If you are looking for a Waterproofing and Mold Removal on Utopia Parkway in Jamaica Estates, Queens, NY, Home Remodeling contractor & Home Improvement expert in New York then please call 800-444-4923 or complete our online request form.
Contact Us Today!