New GAF Roofing System Freeport, NY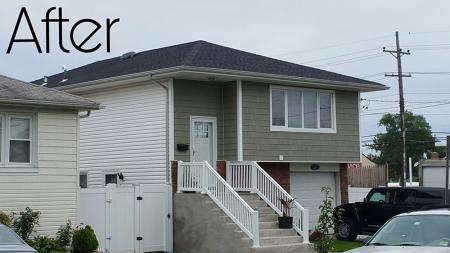 This roof was neglected so over the years that it needed to be ripped down to the rafters and all new plywood it needed to be installed before we install the new GAF roofing system.
Project Gallery
Products Used
GAF
Client Review
This project started out as a leak (in a house that was supposedly just renovated), which turned out to be an issue with the roof. Gotham Builders came in and thoroughly assessed the situation, replacing the roof. They went above and beyond what you could ask for. They took care of the insurance company and made sure that I was treated fairly; I don't know of any other contractors who will go that extra mile to do that for a client. They were very professional, very courteous, always on time and gave me a play by play of what would occur during the whole process. Their work is outstanding. If you want the best and most professional services, choose Gotham Builders of New York. I don't know what I would have done without them during this whole nightmare.
If you are looking for a NEW GAF ROOFING SYSTEM FREEPORT, NY, Home Remodeling contractor & Home Improvement expert in New York then please call 800-444-4923 or complete our online request form.
Contact Us Today!