Kitchen Renovation - Oceanside, NY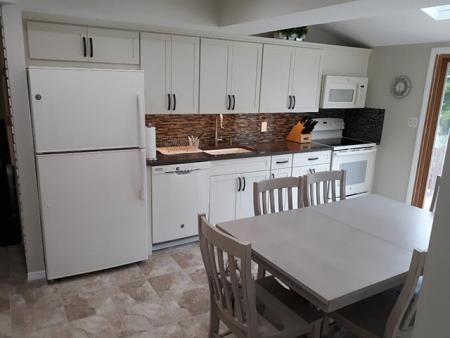 Gotham Builders of New York, Ltd. completed a kitchen renovation project in Oceanside, NY.
Removed old kitchen floors walls and ceilings
Installed new plumbing and electric
Installed ceramic flooring
Installed new walls and cabinetry
Project Gallery
Client Review
When seeking a reliable, experienced contractor for a home renovation, most owners go into shock: Are they good? Can they execute with a minimum of problems? Will they be expeditious in their work? Do they have good communication skills? Are they fairly priced? Insurance and licenses all in order? Well, I found Gotham Builders on Long Island. They fit each finger of that glove perfectly. My old kitchen was... well... old. Gotham ripped, carted, installed floors, walls and insulation, new lighting, cabinets and counters and all the necessary goodies and left me with a big smile without me having to mortgage my grandchildren. Seriously, they're pros. The project manager, Jay Brick, took care of all needs, both construction-wise and soothing any emotions which arose. The cabinet supplier made some errors, thus there was a delay. Let's face it, ripping up one's home is very emotional. Yet, no worries here. The results were superb. Use them... they're excellent.
If you are looking for a Kitchen Renovation – Oceanside, NY, Home Remodeling contractor & Home Improvement expert in New York then please call 800-444-4923 or complete our online request form.
Contact Us Today!