Handicap Bathroom Project on 149th Ave in Howard Beach, Queens County, NY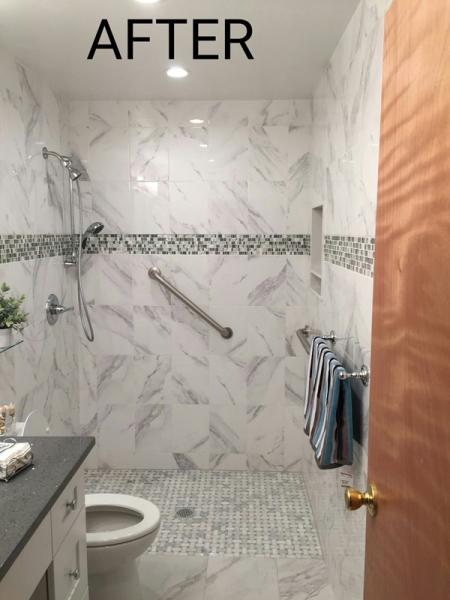 In 2016 Patti B's mom fell down and spent many months in rehabilitation. We helped Patti before and after Super Storm Sandy and back in 2015. She lived in one of the apartments in her house. In order to get her home, her mom's 60 year old bathroom needed to be torn out and a handicap bathroom was needed to be installed.
Project Gallery
Products Used
Kohler
Client Review
After having Gotham do a beautiful basement and bathroom renovation for me a while ago, I recommended them to my parents who needed to have their bathroom transformed into a handicap accessible bath for mom. They were very helpful in their recommendations. All I can say is OMG! It is gorgeous. Not only did they walk dad through the different things that would be needed, they recommended several options that saved my parents lots of $$. In a day and age where you have to be on your guard because there are so many rip off artists out there, along comes Gotham with good old fashioned values. Who ever thought about a wheelchair accessible sink! It really makes life easier Thank goodness they did that. I will be forever grateful to Gotham and forever jealous of my parents beautiful bathroom! Thanks Gotham. You guys are the best!
If you are looking for a Handicap Bathroom Project on 149th Ave in Howard Beach, Queens County, NY, Home Remodeling contractor & Home Improvement expert in New York then please call 800-444-4923 or complete our online request form.
Contact Us Today!