Bathroom Tile Floor Repair Queens, NY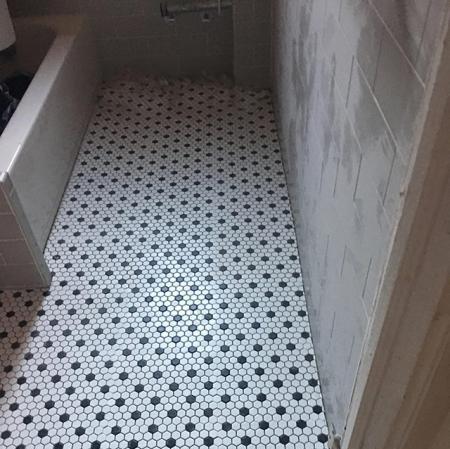 We were called in by a third party after another contractor did a very bad job on the bathroom floor. All the tiles were popping and the tiles did not line up. The bathroom floor is located on the third story of a building that was built in the early 1900's. We came in and removed new floor and found out the the contractor laid the tile over the original floor. We tore out the original floor and mud beneath the tile. We replaced the floor with a new mud job and a ceramic floor.
We did a lot of odd and end tasks besides the floor and now the bathroom looks great.
Estimated Budget: $5,500
Client Review
Gotham Builders came in to fix a bad guy renovation that we had done by another contractor on our bathroom. There were a lot of issues that needed addressing, predominantly the floor was laid incorrectly and within months, tiles were popping up. The owner Andy was great, with us every step of the way. His team was able to identify what was done wrong and correct it in a timely manner so as not to inconvenience us longer than we had to be (2 adults, 3 girls with one bathroom!). Owner Andy was in contact with us virtually every day, asking us about the progress, addressing any questions and concerns, and even called us a week after the job was done to make sure that we felt everything was to your satisfaction. Really appreciate Andy's hands on approach and taking the time to make sure that the customer is satisfied and that the job is done right. With all the sketchiness in the contracting world, it was refreshing to see someone care about their business. Because of this we have already recommended Andy and Got
If you are looking for a Bathroom Tile Floor Repair Queens, NY, Home Remodeling contractor & Home Improvement expert in New York then please call 800-444-4923 or complete our online request form.
Contact Us Today!