Brooklyn Bathroom Remodeling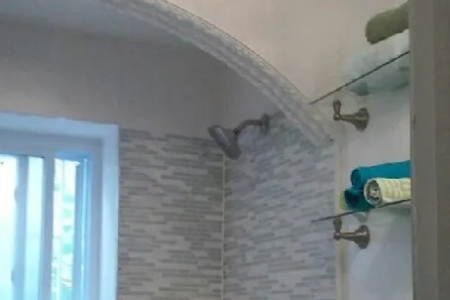 Bathroom Mosaic Tile Project on Veterans Ave., Brooklyn NY
Bathroom with Very Difficult Mosaic Tile Work
We ripped out a very large 75 year old bathroom in Brooklyn, NY. We changed all the plumbing, did all the necessary carpentry to renovate a 75 year old bathroom. The client and their decorator picked a very difficult mosaic floor that needed to be installed. They had many estimates and every contractor that came by passed of the job because it was too difficult.
Last year we were contacted By Elaine U. of Brooklyn NY that needed a contractor that had an expert tile man to remodel their bathroom. Elanine and her Designer Ezra picked out a mosaic floor that most general contractors would not attempt to do. Our expert tile man Giuseppe was up for the job. We ripped out the old bathroom and finished her bathroom. Elaine was so happy she wrote this review on Angie's list.
Project Gallery
Products Used
Kohler
Client Review
Gotham builders are a hard, energetic, and skilled in tile work. I gave them a challenging or what Contractors would call, "tedious" tile job for a small bathroom. I was happily surprised when they tiled my bathroom above my expectations because, I didn't think they could perform the challenge at first. If you see a picture of my bathroom you would say, "It looks like a Modern Moroccan Hotel/Spa. They put a guarantee behind the work that they did for me. They gave financing so I can have the bathroom of my dreams. The crew were passionate about tiling; "Why do I describe them as that?" Because one of the tile was not set right over night (due to the weight of the tile) that was not visible unless you were trained on how to tile and they corrected it until it was perfect. After the job was done my brother saw it and said, "This can be in an interior designer art museum or showroom." My other brother saw pictures of it and said, "Your bathroom can be on that house decorating network on TV. One of my brothers fr
If you are looking for a Brooklyn Bathroom Remodeling, Home Remodeling contractor & Home Improvement expert in New York then please call 800-444-4923 or complete our online request form.
Contact Us Today!