Attic Renovation and Open Cell Spray Foam Insulation Project on 179th Place in Jamaica, Queens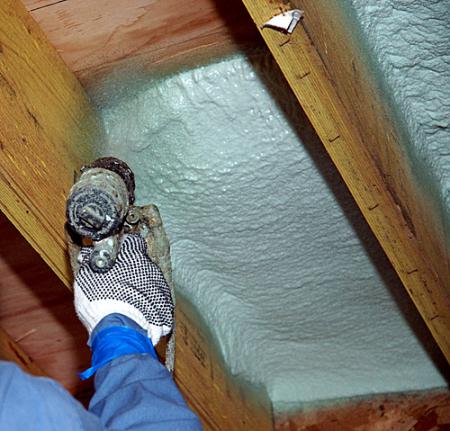 Mark R. for Jamaica Queens contacted Gotham Builders of New York, Ltd. after reading our many positive reviews on Angie's List. He needed to renovate an attic and had done lots of research on spray foam insulation.
Not may contractors offer spray foam insulation in NYC. When he contacted us the first question that he asked was "Does Gotham do Blown in Foam Insulation?". I answered him saying not only do we offer spray foam both open cell and closed cell insulation, that I used both products in my own home. I told him that Spray Polyurethane Foam (SPF) is better than any other type of insulation at reducing air leakage.
With foamed-in-place insulation, it is relatively easy to fill wall and ceiling cavities completely on new construction or when all studs are exposed. It is little more expensive than regular insulation but in the long run it is well worth it. The savings in your fuel bills will make the product pay for itself in a few years.
Mark is happy with his new attic and wrote a nice review for us on Angie's list.
Project Gallery
Products Used
Spray Polyurethane Foam (SPF) – Opened and closed cell insulation
Client Review
We could not find a Home Improvement contractor to install Spray foam insulation in our attic . Gotham not only new about the product and they encouraged us to use it. The overall renovation of our attic (demolition, electrical, closed and Opened foam insulation, walls, painting, fixtures and flooring) was completed ahead of schedule, his team of professionals did a great job and we are very pleased with the outcome. We can see ourselves doing future business with Gotham Builders. From the very beginning, we, as a family met with Jay C., for an initial assessment and quote, he was knowledgeable and helped us to figure out what would work best in our situation and for our needs. He made recommendations and was also upfront with what work they do.
If you are looking for a Attic Renovation and Open Cell Spray Foam Insulation Project on 179th Place in Jamaica, Queens, Home Remodeling contractor & Home Improvement expert in New York then please call 800-444-4923 or complete our online request form.
Contact Us Today!